Reported by Radhika Bordia, Edited by Janaki Fernandes | Updated: July 27, 2012 17:13 IST
New Delhi: In a country where a woman's 'suhaag', her husband, is seen as central to her existence, imagine a song where a woman, driven to desperation, says it's easier to lose him than her precious pitcher of water. This was a song we filmed in Banda, Bundelkhand, 16 years ago, when we travelled to Uttar Pradesh. The water shortage appeared apocalyptic then, even for this under-developed part of India. But since then, Banda's thirst has become starker.
In 1997, the Centre for Science and Environment, published 'Dying Wisdom: The Rise, Fall and Potential of Traditional Water Harvesting Systems'. It beautifully mapped the acumen with which communities across the country once conserved their water resources. At the book's launch, when we interviewed the CSE director at the time, the late Anil Agarwal, he emphasized how urgent the need was for us to revert to our older water-harvesting techniques as well as develop newer ones. The book was widely-read and for a while, it seemed that policy-makers would take note. Yet, 15 years passed before some laws were put into place to make rainwater harvesting mandatory. The Delhi government, for instance, constantly reiterates its commitment to do rainwater harvesting but when we set out to do a water profiling of the city, we found a disturbing mismatch between intention and reality.
Dhiraj Ahuja runs a company called Delhi Tubewells Limited. In 1994 when his company dug a tubewell for a house they had to go down approximately 60 feet to get water. By 2011, for the same home, they had to go as deep as 250 feet to hit water. "In some places we only had to dig 30 feet and we would hit water, today when we are called to bore wells, even after going down 300 feet we don't get any water." It's a candid confession from a man who has profited greatly from a dangerous water policy which allowed unchecked tubewell-boring for decades.
From the mid-sixties, both the government and home owners have bored their own water supplies, deep into the earth, sucking out Delhi's ground water in massive quantities. "See those are tubewell pipes pulled out of the ground as the wells have dried up,' Dhiraj Ahuja points to piles of dug up borewell pipes, now lying unused and rusting.
Frantic laws are now being formulated to try and reverse the damage. In neighbouring Gurgaon, the Punjab and Haryana High Court has barred the Haryana government and its agencies from allowing any construction till real estate developers commit that they will use water tankers for building their projects. Ground water will be off-limits. The construction lobby has been badly hit by this. According to the Central Groundwater Authority (CGA), Gurgaon was illegally extracting as much as 50 million gallons of water per day - taking out from the ground three times the amount of water it replenished. The CGWA warned that by if this was not stopped Gurgaon would have no groundwater left by 2017.
In Delhi , a law passed in 2005 makes it mandatory for all tubewells to be registered with the government, but the Centre for Science and Environment reveals that only 100,000 tubewells are on the records -experts say at least double that amount are not documented. Regulating illegal tubewells is next to impossible as almost all our households have them and there is no one agency or government body tasked to monitor this.
Private householders argue that tubewells are the only option as the Delhi Jal Board, in charge of the city's water supply, simply does not provide adequate water. At the moment The Jal Board, a civic body mandated to provide water, supplies piped water to about 75% of Delhi's population which means many parts of the city has no connections. Those who do have water connections say the supply is erratic. Statistics also reveal how unequally the water has been distributed. Take a look at this - 70% of Delhi's total municipal water goes to the privileged Delhi Cantonment area, which means that less than 5% of a city's population guzzles up an entire city's water supply.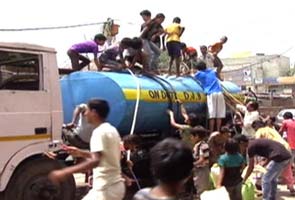 Vast areas like the ones we visited were completely left out of the Jal Board's ambit. In Madangir, a sprawling semi-urban, densely populated area, there are few Jal Board connections, leaving the residents dependent on a corrupt water tanker mafia. This is a scenario well-documented, with stories of long waits, water fights and large scale corruption. 'I have to pay almost Rs 2000 a month for water, you tell me how am I supposed to survive," asks a middle-aged woman, the voting ink on her finger still not faded. "Should I spend on my children's education or give them drinking water?"
Dhiraj Ahuja, who was with us, pointed out the innumerable tubewells in the area, dug by those who could afford it, now bone dry.
This is one part of Delhi's catastrophic water story.
Cut now to a black-and-white picture taken in the 70s. It shows a group of five young men in a motor-boat on a vast lake. One of them, Sharad Gaur, is taking his friends to his ancestral village situated at the edge of the lake. His village and that vast lake is, today, Sector 20 Dwarka, a matrix of high-rise apartment buildings on the southern edge of Delhi. If the disappearance of a lake over 30 years is a common story in Delhi's growth as a city, there is enough evidence of water bodies disappearing almost overnight. Sharad Gaur, now the regional director with the Centre for Environment Education, a cell of the Environment Ministry, takes us across Delhi to show us how the city has rapidly destroyed its water bodies. The starting point is the most obvious - the river Yamuna and its flood plains. 88% of Delhi's water supply comes from surface water of which 60% is from the Yamuna. The abuse and neglect of this river has been reported often, but each new visit reveals a wave of fresh damage that is frightening. 40% of the Yamuna flood plains have been destroyed, the construction continues unchecked. At one site, in the heart of the city, Sharad Gaur pointed out the last remaining bit of the flood plains that had survived. On it one could see the seasonal cultivation, traditional to flood plain, a soothing green body acting as sponge for water in a desperately thirsty city. But less than a kilometer away, this was interrupted by a man dumping rubble into the same land - 'That's the way the Yamuna is reclaimed' explained Sharad Gaur.
If a city has no sense of its river, imagine the ease with which it has ruined its natural water bodies, old step wells, man-made lakes, each time evoking the fallacious argument of development. Shamsi Talab, once a water reservoir, is hemmed in by growing construction around it. Jahaaz Mahal as its name suggests once stood like a boat on water, now on dry ground. Vinod Jain's NGO TAPAS has been fighting a 20-year-old legal battle to save Delhi's innumerable natural water reservoirs. Their studies reveal that there's enough space for the city to grow without killing its own most precious natural resource. 'We have managed to bring 629 water bodies to the notice of the Court. I think there are actually as many as 800-900 but most of these water bodies have construction on them, around them, there is constant encroachment and some have just gone dry. In 2003 the Court has given an order to preserve the water bodies and I'm grateful for that. There's a lot of work to be done and I just hope the Delhi government becomes more serious in abiding by the Court', says Vinod Jain.
Legal intent, though is not enough on this own. With depleted groundwater, a river under threat and natural water bodies being destroyed, it became clear that there would be an urgent need to do rainwater harvesting on a war footing. In June 2001, the Ministry of Urban Development made rainwater harvesting mandatory in all new buildings with a roof area of more than 100 square meters and in new plots that had an area of more than 1000 square metres. On the ground, this is not working as no one wants to take responsibility of implementing the law. The Municipal Corporation of Delhi (MCD), responsible for construction bye-laws, rarely checks if new buildings have rainwater harvesting apparatus. The Ground Water Board told us to take our queries to the water-harvesting cell of the Jal Board. And at the Jal Board, its CEO, Debashree Mukherjee told us that they do have a department that facilitates water harvesting but the Jal Board is mandated to enforce the law. The buck is passed with dizzying speed.
Dhiraj Ahuja, the 'tubewell man' is keen we end our story on a positive note. He says his company no longer digs tubewells but now works on creating rainwater harvesting systems He uses the same old tubewell pipes to now take water from the roof deep into the ground. Ahuja's company has been hired by the Ministry of Environment to carry out a Canadian grant to install rainwater harvesting systems in some schools and institutions. Ahuja takes us to some of these sites and says with deep satisfaction that he is 'returning to the ground, what he took from it. 'I am glad' he says, 'to move from destruction to creation'.
If only the city could move in the same direction.
Story first published:
July 27, 2012 12:30 IST
Original Article: http://www.ndtv.com/article/view/india/248213?device=mobile